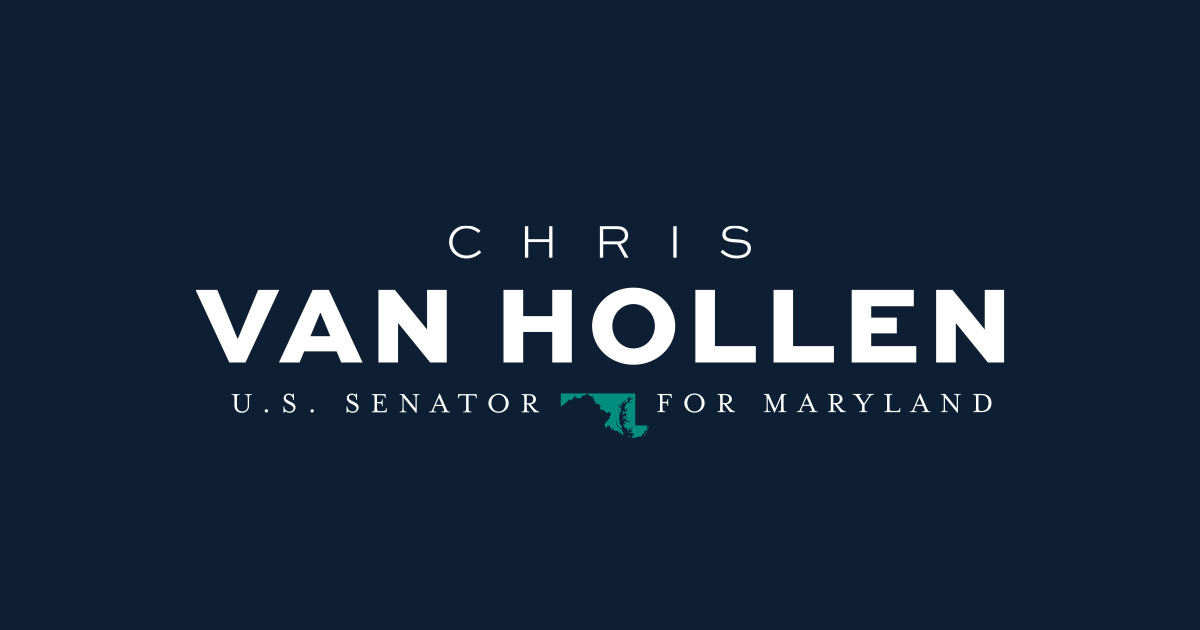 Van Hollen, Menendez, Rubio and colleagues introduce bipartisan resolution to commemorate World Press Freedom Day
May 03, 2022
U.S. Sen. Chris Van Hollen (D-Md.) joined Sen. Bob Menendez (DN.J.) alongside Sen. Marco Rubio (R-Fla.), Ben Cardin (D-Md.), Time Kaine (D -Va.), Jeff Merkley (D-Ore.), Chris Coons (D-Del.), Jim Moran (R-Kan.), Thom Tillis (RN.C.) and John Cornyn (R-Texas) in presenting a Senate resolution to commemorate World Press Freedom Day and recognize the growing threats to press freedom and freedom of expression around the world. The bipartisan resolution reaffirms the vital role a free and independent press plays in countering the growing threat of authoritarianism, countering misinformation and disinformation, documenting human rights abuses, informing the local and international audiences on public health crises and pursuing discourse and debate to advance health democracies.
"On this World Press Freedom Day, I am proud to once again be joined by my colleagues in recognizing the immense strength of an informed public and the importance of press freedom as a fundamental pillar of democracy", President Menendez said. "As we see more and more governments and malicious actors around the world desperately trying to muzzle the press to prevent the facts from reaching their own people, our support for the brave journalists who risk everything to advance the truth , transparency and accountability has never been more critical. From Moscow to Washington DC, freedom of expression and a free and independent press are not only essential to the health of a society, but are at the forefront of our efforts to protect and advance human rights and good governance in the world.
"A free press serves as a check on tyranny and authoritarianism around the world. But recent attacks on the media and journalists have seriously threatened this freedom. We must stand in solidarity with all those who report the truth and especially those who do so in the face of repressive regimes. No one should ever have their rights threatened for telling the facts," said Senator Van Hollen.
"Journalists provide crucial information about human suffering, corruption and unrest around the world," Senator Rubio said. "Unfortunately, authorities such as those in the People's Republic of China, Russia, Iran, Cuba and Nicaragua are fiercely determined to censor any voices that challenge their own twisted narratives. I am proud to present this resolution and to lend my unwavering support to the cause of freedom of the press in the world.
"On this World Press Freedom Day, we face the very real dangers that professional journalists face daily in war zones like Ukraine and repressive and autocratic regimes like Russia. The men and women who continue to report despite difficulties and risks are the guardians of truth and democracy." said Senator Cardin. "The United States is not immune to efforts to limit open reporting and spread misinformation and even violence against members of the media. We must continue to support journalists in their work to report the truth here at home and around the world.
"This resolution sends the important message that freedom of the press remains essential and that attempts to threaten the rights of journalists represent a serious affront to universal human rights," said Senator Kaine. "These principles must remain a priority not just on World Press Freedom Day, but every day."
"Russia's brutal invasion of Ukraine is just the latest reminder of the importance of having a free press that can report the truth and hold leaders accountable so the world can know the facts without blush on the pitch," he added. Senator Coons said. "On World Press Freedom Day, we must recommit to standing up to the autocrats who repress independent journalists, to ensuring that journalists everywhere can do their job without fear for their safety. personal and vigilant defense of First Amendment rights here at home. ."
"Journalists in Ukraine are risking their lives to help draw the curtain back on Russian military atrocities against civilians," said Senator Moran. "While freedom of the press is enshrined in our Constitution, members of the press in many places around the world do not enjoy the same protections. We must do our part to cultivate press freedom around the world.
"Freedom of the press and freedom of expression are both vital to democracy and we must do all we can to protect it," said Senator Tillis. "I am proud to present this bipartisan resolution to raise awareness of this universal freedom and to recognize the journalists who deliver the truth to the people every day, especially those who have lost their lives doing so."
Find a copy of the resolution HERE.
---
---
Next article Previous article