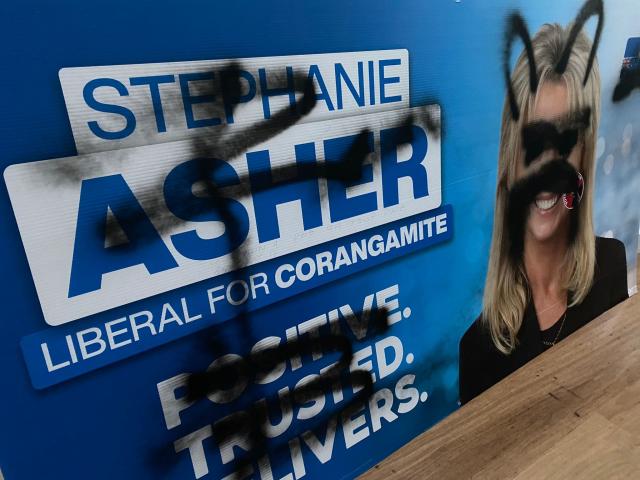 Police asked to investigate vandalism of campaign signs
ash bolt
Victorian Senator Sarah Henderson has asked Victoria Police to investigate the 'systemic vandalism' of Liberal campaign signs in Corangamite.
Ms Henderson said Ms Henderson said about 45 of Liberal candidate Stephanie Asher's signs in the area had been damaged throughout the campaign.
"In a democracy like ours, this criminal behavior cannot be tolerated," she said.
"Stephanie Asher's placards were stolen and defaced with graffiti including Nazi symbols resembling swastikas. On some panels, the photograph of Stephanie's face has been cut out.
"Once the Victorian Liberals' proposal to ban the Nazi swastika is accepted, this deeply offensive and criminal behavior must end.
"I estimate that approximately 45 Steph Asher panels were damaged… [and] ten large signs and fifteen small signs were stolen.
"Overnight [on Tuesday] there was an orchestrated campaign of vandalism and six major Liberal signs were damaged. These vandals arrive in the middle of the night with the intention of causing maximum damage.
"That's the job of our political adversaries. I saw no evidence of vandalism of the Labor signs.
Ms Henderson said 'the shameful behavior must stop'.
"I think we need stronger election laws to stop this criminal behavior, such as requiring all candidates, including MPs, to certify that they will report any criminal behavior relating to their nomination that comes to their knowledge. ", she said.
"In the last federal election, I suffered the same fate with my campaign posters. Since 2016, anonymous trolls…subjected me to continuous harassment and abuse which sparked a police investigation.
"I will continue to fight vandals and trolls who are an affront to our democracy."