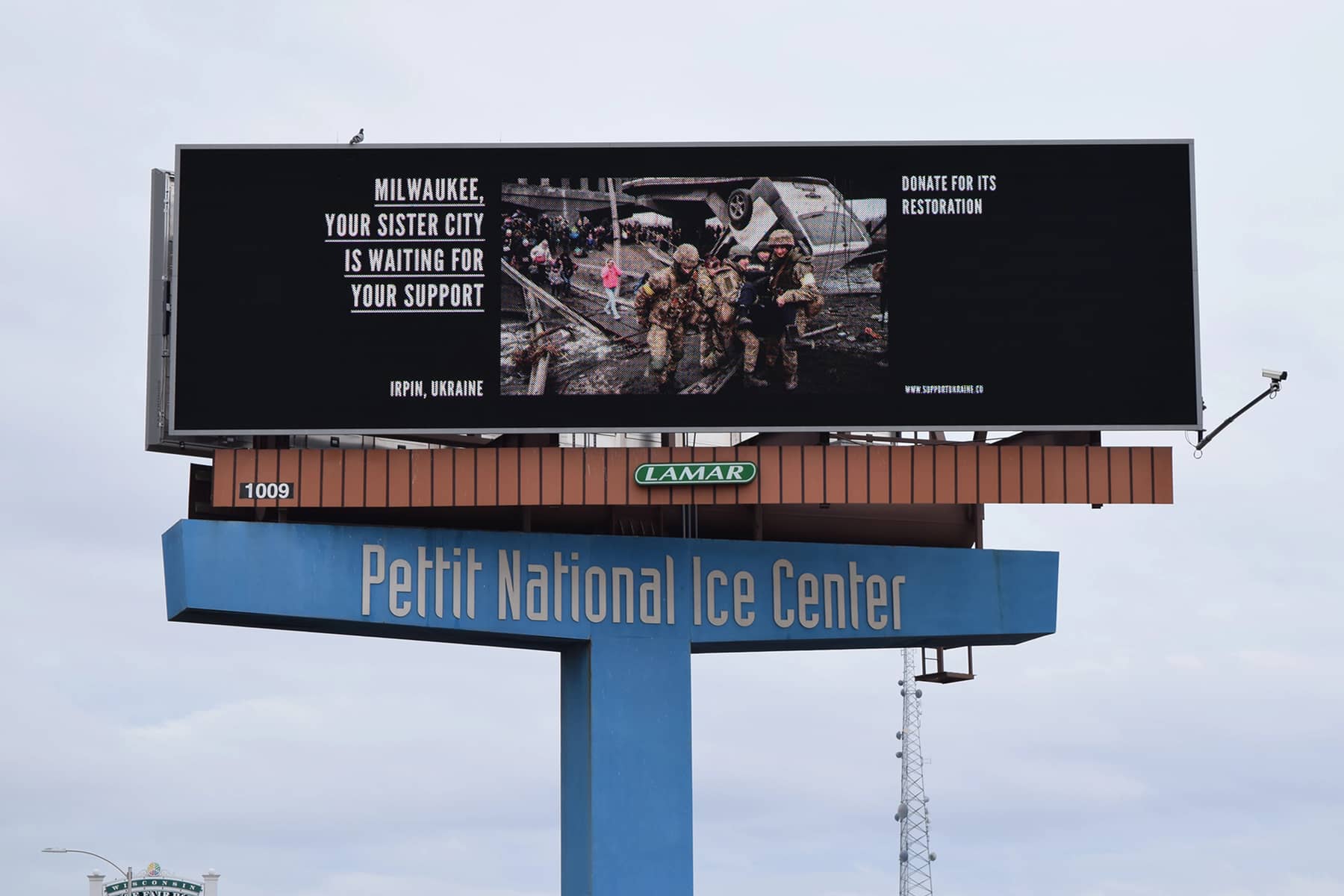 Irpin Billboard: Ukrainian creatives use Milwaukee ad space to inspire global information campaign
"On the first day, we received a lot of emails with ideas, offers and questions," Gonchar said. "(Calvert) … wrote to us that she saw the file and wanted to help, and she only has one billboard in Milwaukee and she wants to use that billboard to support Ukraine. But she didn't know what to write on that bulletin board.
So Gonchar says his team did some quick research and discovered Milwaukee's existing sister city relationship with Irpin, Ukraine. A suburb just northwest of kyiv, Irpin was hit hard by Russian shelling and suffered extensive damage.
Working quickly, Gonchar and his team prepared a billboard for Calvert, then adapted the tactic to draw attention to other sister city relationships tied to Ukrainian municipalities.
"This one (a person with a connection to Milwaukee) inspired us to do a big campaign around the world and find all the sister cities of our cities that were destroyed by Russian bombs," Gonchar said. "And now we are preparing these billboards and messages for every city in the world. And it's so cool to know that only one person in the world can make that wave.
Of course, another coincidence was that Shkurba, Gonchar and Mishchenko hadn't realized, until then in their interview on the Lead Balloon Podcast, that host Dusty Weis and the Podcamp Media operation are based in Milwaukee.
"Would you believe I'm actually calling you from Milwaukee right now?" Weis said, to incredulous laughter from his podcast guests.
Afterwards, Weis added, "It's easy to look at the media coverage of what's happening in Ukraine and think, 'These people and places are really far from us here in Milwaukee.' For me, it was a humble reminder that we live in a world that is shrinking every day, and Russia's unprovoked attack on a sovereign nation should concern everyone who loves freedom, wherever they live.
"Please find a way to support the Ukrainian people in their fight against the Russian invasion."