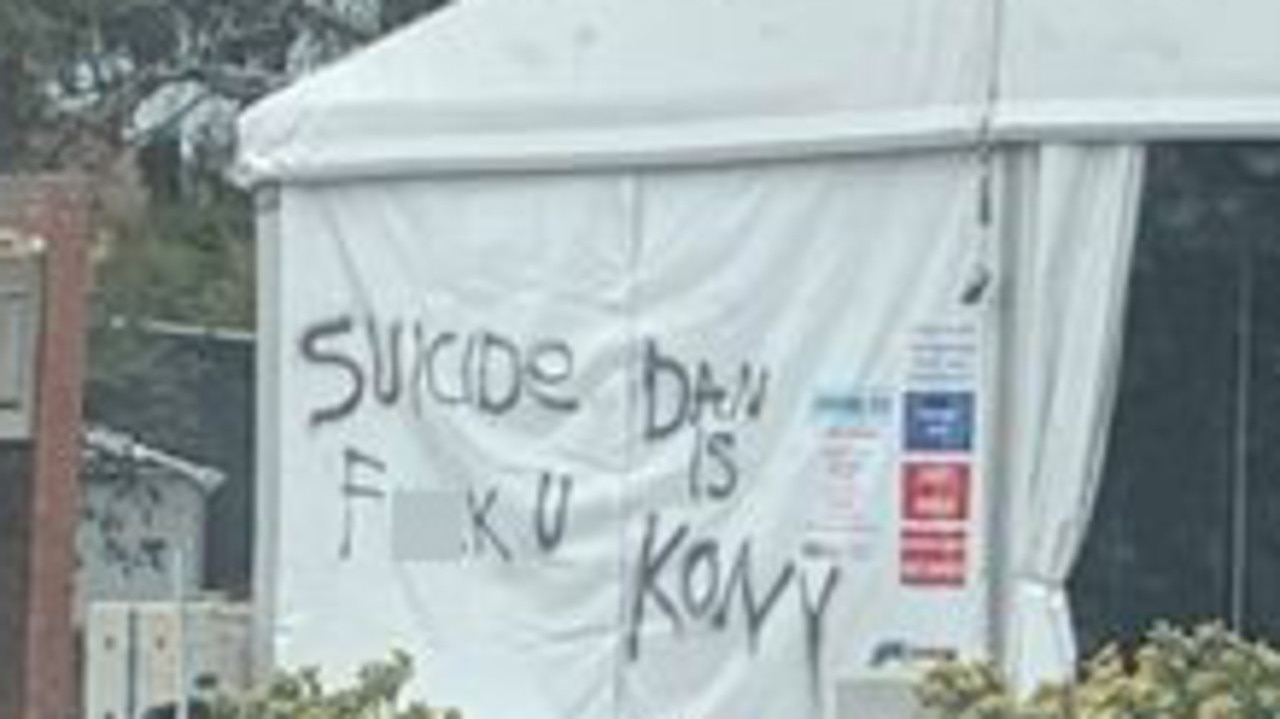 Covid Geelong: the test site of the ACL South Barwon reserve vandalized
Geelong Covid test sites have been vandalized with filthy and offensive graffiti, in attacks that the state's health minister called "just stupid."
GEELONG Covid test sites have been vandalized with filthy and offensive graffiti, in attacks that the state's health minister called "just stupid."
It is understood that the Australian Clinical Laboratories Covid test site on the South Barwon Reserve in Belmont has been vandalized with graffiti including Nazi symbols and 'f *** you Dan'.
The attack is believed to have taken place around 9 p.m. Thursday.
The site has also reportedly been vandalized on several occasions.
Testing was temporarily suspended on the site on Friday.
Victoria Police spokesperson Senior Constable Magdaline Papadopoulos said police were investigating the vandalism and requesting further information.
Crime scene services were on site Friday.
"Police are investigating reports of vandalism at two locations in Belmont," Constable Papadopoulos said.
"Investigators learned that unknown offenders graffiti buildings on Barwon Heads Rd and Reynolds Rd during the night of September 23."
An ACL spokesperson confirmed that security footage had been provided to local authorities and the case was under investigation.
"The South Barwon reserve test site has resumed full-time operations," the spokesperson said.
The Kardinia Health test site in Belmont has also been the target of vandals, with graffiti including "your body, your choice" and "the Covid statistics are false".
General manager Michelle Heagney said on Friday the incident happened overnight and was reported to police.
Covid testing was not underway at the site on Friday due to the public holiday.
She said that although this was the first time the marquees had been vandalized, directional signage had been repeatedly vandalized on Colac Road to the point that the signs had been removed.
Ms Heagney said Covid was not easy for anyone and attacking tents that were there to take care of people was not improving the situation for anyone.
Health Minister Martin Foley said the graffiti attacks were "silly, misguided and frankly, just plain stupid."
"The thing to do if you are in Barwon, or if you are in Melbourne, or if you are anywhere in Victoria or Australia is to take the opportunity at these test sites to make sure we stay in. ahead of the virus outbreak, "Mr. Foley said.
Police are urging anyone with information to come forward by calling Crime Stoppers on 1-800-333,000.