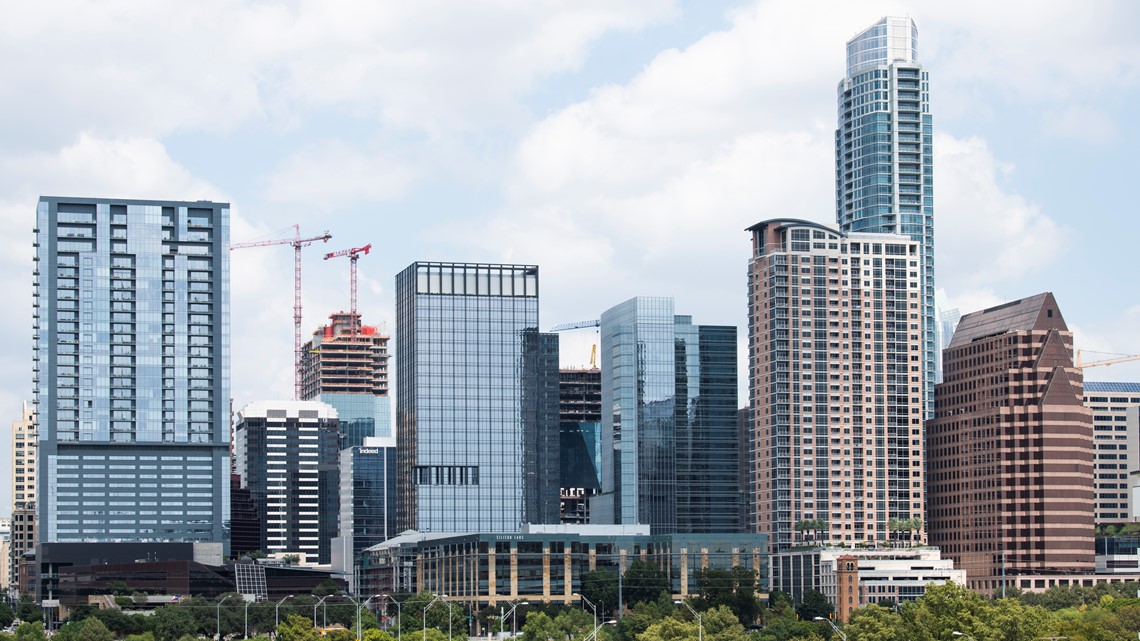 City leaders condemn anti-Semitic, racist and homophobic messages seen in Austin
The Austin Police Chief responded to reports of a banner posted on MoPac, as many city leaders spoke out against inappropriate graffiti at Anderson High.
AUSTIN, Texas – City leaders are speaking out, condemning the incidents of anti-Semitic, racist and homophobic messages seen around Austin since Friday and this weekend.
More recently there have been reports of a banner displayed on TX-Loop 1 or MoPac Expressway. Police did not say what the comments or the language on the banner said, but Austin Police Chief Joseph Chacon addressed the banner on Sunday, claiming that messages have no place in the capital.
"Let's be clear. Hate and fanaticism have absolutely no place in our community and are certainly not welcome in our police department. The views shared by protesters during a protest action this weekend were hateful and do not reflect our values. Screenshot of an incident over two hours long does not tell the whole story. I ask our community not to buy into the hate and images that have been taken out of context on social networks After suffering an avalanche of hate speech and personal insults that were uttered to them, the agents who intervened on the scene calmly and professionally fulfilled their duty to ensure the safety of drivers on the site. MoPac, passers-by and protesters while ensuring that the incident does not escalate and that no laws are broken. Comply with its demands to ensure the scene remains safe. conversation, the responding supervisor declined a handshake request and instead opted for a punch citing COVID-19 safety protocols. APD remains vigilant in its priority of keeping the community of Austin safe and holding those who commit crimes to account. "
Shalom Austin, an organization that works to improve the quality of life for Jews in the greater Austin area, called the MoPac banner "extremely upsetting and disturbing."
Here is the full statement released by Shalom Austin:
"We are writing to inform you of an anti-Semitic incident that took place earlier this afternoon on the Far West Viaduct at Mopac. A small group of individuals hung an anti-Semitic banner on Mopac. They have since left this area. the incident does not appear to be related to the appalling vandalism that occurred at Anderson High School this week.
"We understand that this is extremely upsetting and disturbing. We are always vigilant in monitoring anti-Semitic groups and work closely with law enforcement to share information about their activities. The aim of this group is to to attract attention by being as offensive as possible. The Austin Police Department is aware, has been incredibly supportive and has been monitoring and observing the situation closely. We spoke this evening with Chief Joseph Chacon and he reaffirmed their support for our community.We understand that they may intend to conduct additional activities in Austin and elsewhere in Texas during Given their recent activities, we would expect this to involve demonstrating in a space audience where they can get attention.If you see them, it is not recommended that you interact with them.
"We wanted to let you know that we are continuing to monitor the situation and work with our local law enforcement to keep our community safe. We also remain in close contact and coordination with all local congregations and Jewish organizations to combat hatred and anti-Semitism.
"We are grateful to our allies and colleagues for providing their support."
As stated in Shalom Austin's statement, this comes after offensive and racist words and symbols were painted on several student parking spaces at Anderson High School on Friday.
Mayor Steve Adler responded to reports from Saturday's hate speech, tweeting, "I'm heartbroken to see anti-Semitic hatred in Austin, a welcoming and respectful place. Hatred of any kind has no place in our city. If you will. see or hear it, you must report it to @ADL. "
Mayor Pro-Tem Natasha Harper-Madison tweeted saying "a cowardly, deplorable and targeted attack not only on high school students, but on our community as a whole. We don't tolerate it in East Austin. We don't tolerate West Austin. We don't tolerate it in Austin . "
City Councilor Alison Alter also spoke on Saturday about anti-Semitic graffiti seen at Anderson High School.
"Yesterday, students at Anderson High School encountered anti-Semitic, homophobic and racist graffiti upon entering school. This hatred is unacceptable in our community. We must all speak out against it. [I am not posting a photo because I don't want to circulate hate.] #No hate, " Alt tweeted.
"Thank you @ALTERforATX for denouncing this anti-Semitism, this homophobia and this racism", Casar added.
On Monday afternoon, ISD Austin Superintendent Stepanie Elizalde released the following statement in response to the Anderson High School graffiti:
"The anti-Semitic, racist and homophobic graffiti at Anderson High School is more than vandalism. It was a reminder that the work to make Austin ISD a safe and inclusive place is never done, and the community response is proof that ugly graffiti does not represent who we are.There is no room for hate at Anderson High School or any other school in the Austin Independent School District, and graffiti is an insult to the great job that our teachers, administrators and staff do every day to make sure every student feels safe at school.
If your student has been disturbed by these events, please ask them to contact their campus advisor. We are here to support our students who may have felt targeted or threatened by these hateful images. And if you have any questions or concerns, please don't hesitate to contact us through Let's Talk. "
Verstappen wins US F1 Grand Prix, extends title race lead
Settlement filed in court to resolve Texas foster care issues
Tips for Staying Healthy While Making Treats or Spells During a Pandemic