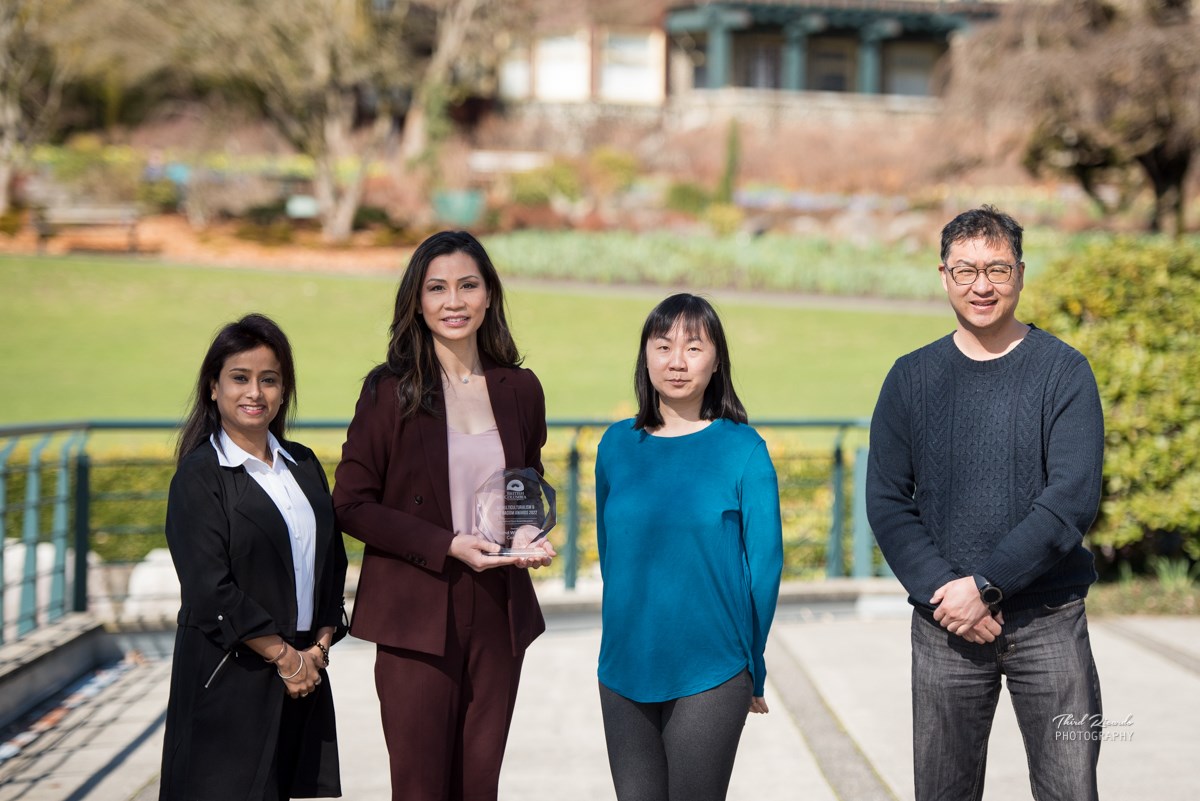 Burnaby's Stand With Asians Coalition Receives Provincial Award
"A few of us came together quickly to form this coalition because we felt something needed to be done to address racism and discrimination."
A Burnaby-based anti-racism coalition has received an award from the province.
The Stand With Asians Coalition was recognized with an Intercultural Trust Award on March 21, which recognizes outstanding work in building intercultural trust and understanding and/or reducing racism and hatred between communities.
"On behalf of our Board of Directors and all of our group members, I would like to sincerely thank the Government of British Columbia for selecting the Stand With Asians Coalition as the recipient of the Multiculturalism and Anti-Racism Award. of British Columbia," coalition co-founder Doris Mah said in a statement. Release.
"The Stand With Asians Coalition movement started just a year ago, in April 2021, around my kitchen table after reading that hate crimes in Burnaby had increased 350% since the start of the COVID-19 pandemic. 19. Vancouver saw a 700% increase. A few of us came together quickly to form this coalition because we felt something had to be done to fight racism and discrimination.
"Many hours have been spent uniting cities across the country to proclaim May 10, 2021 the Day of Action against Anti-Asian Racism to highlight the urgent need to develop more effective policy initiatives and encourage a systemic change to protect all Canadians."
Vancouver's Imtiaz Popat also received an Intercultural Trust Award.
"I want to recognize the hard work and unpaid work of Black, Indigenous and racialized British Columbians to fight for systemic change. Thank you for your courage, passion and perseverance," added the Parliamentary Secretary for Community Initiatives. fight against racism, Rachna Singh, in the press release. .
"I am grateful to all of the nominees for their efforts this year, and to all of the organizations, individuals and volunteers across British Columbia who strengthen our communities by challenging the status quo, supporting those who are victims of hate and fighting against white supremacy."
Since the launch of the BC Multiculturalism and Anti-Racism Awards in 2008, the province says more than 40 individuals and organizations have been recognized.
In 2021, Mah and the coalition called on the city to proclaim May 10 as a Day of Action Against Asian Racism.
Burnaby Mayor Mike Hurley and council passed the proclamation in late April, noting that May is Asian Heritage Month in Canada.
Burnaby RCMP say there has been a 50% increase in anti-Asian hate crimes in the first year of the COVID-19 pandemic.
In 2019, the detachment responded to six hate crimes with an Asian victim or target — that number rose to 27 in 2020, police said.
Of all hate-motivated offenses reported to police in 2020, 63% (27 of 43) were identified as having an Asian victim or target, compared to 30% (six of 20) in 2019.
Burnaby's best cop, the superintendent. Graham De la gorgendière, said the incidents ranged from property damage, including offensive graffiti, to threats and assaults.
– with files from Cornelia Naylor, Burnaby Now