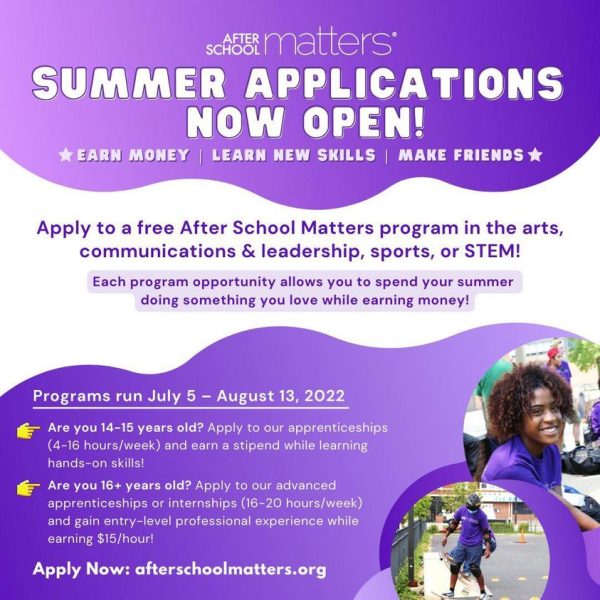 Austin Talks | After-school program accepting applications
After school questionsApplication for summer programs is open, providing opportunities for thousands of Chicago high school teens in the arts, communications and leadership, sports, and STEM.
Programs begin July 5 and will take place in person at locations across the city as well as through select remote options. No vaccine is required to participate. Teenagers interested in applying can visit afterschoolmatters.org.
Registration is free and teens earn money for their participation. The amount earned in each program depends on the age of the participants, the level of expertise required for the program and the weekly hours of the program.
Teenagers aged 14 and 15 can choose between pre-apprenticeship or apprenticeship programs, and both offer stipends for their participation.
Teens 16 and older can choose between an advanced apprenticeship or an internship that pays $15 per hour.
After School Matters offers new opportunities at $15 per hour for 16- to 20-year-olds, per city policy. A summer in Chicago initiative to provide young people in Chicago with advanced opportunities to learn basic professional skills that they can apply to their resume for a future internship or employment.
This is the first summer in nearly two years where the majority of program opportunities will be offered in person; while most programs will take place in person, remote options are available for young people who prefer them.
Hundreds of programs will be offered this summer, and below is a sampling of some of the exciting programs available for Chicago teens. A full list of programs can be found here.
Advanced Culinary Arts
Teenagers learn new cooking skills and perfect their basic techniques. Participants receive the training necessary to obtain jobs in the culinary hospitality industry or simply to prepare healthy meals for themselves and their families. Teens will also learn the arts and techniques of cake decorating, table setting and catering for large groups.
Astronomy & Space
Teens learn about urban astronomy and celestial bodies by watching and discussing space-themed movies, conducting physics experiments, studying NASA and manned space travel/rockets, while discovering careers in the field of astronomy and space. By the end of the session, teens will be ready to present and display newly acquired astronomical knowledge.
Design.Build.Growth.Eat
Teens explore the connections between people and nature and learn about the process of agriculture and the concept of whole foods – building their knowledge of the environment and their ability to positively impact it to create peace and produce.
The design of the game
Teenagers learn the fundamental concepts of game design and development through play, analysis, and game creation. Participants will play and analyze existing games (digital and analog) and then create new ones based on the knowledge they have acquired through the program.
Children Dancing
Teenagers are exposed to dance as an art form, a professional opportunity and a tool for self-expression. Participants will learn and perform a variety of dance styles, foster personal artistic growth and professional discipline through this program.
Yollocolli La Mesita: radio and live streaming
Teenagers explore and tell the stories of their communities through journalism, audio and radio production. Participants learn production skills while gaining the tools to be civic community journalists and storytellers. They will work as a team to research a story, often interviewing community members, local artists and other teens in the process. Their work will be peer-edited and published in various media. Collectively, the participants produce a weekly radio show that airs on FM through a partnership with a local radio station.
All After School Matters programs are free and open to Chicago high school students ages 14 and older. As part of the application process, teens meet with program instructors to discuss their interests.
For questions about programs and applications, call (312) 742-4182 or email [email protected]